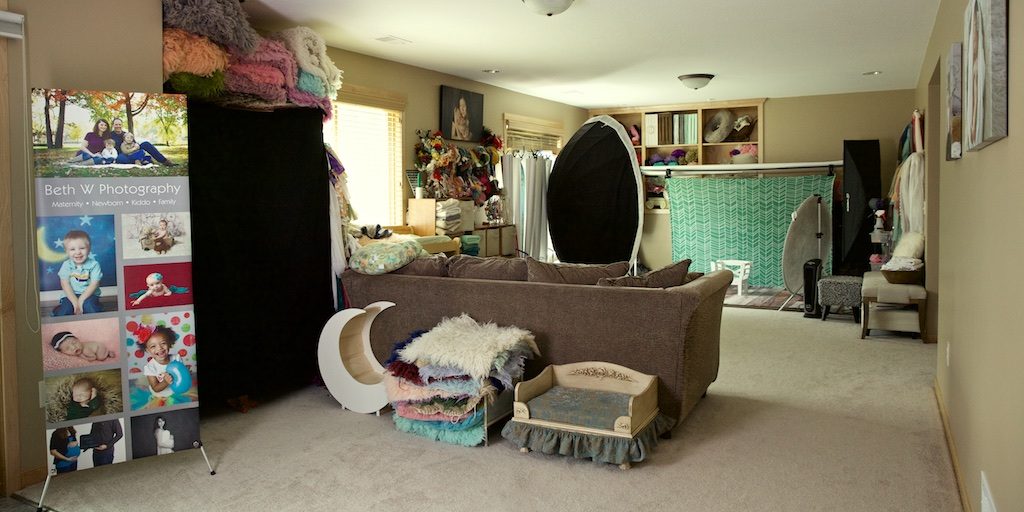 The studio is located in my residence in northern Brooklyn Park. I have a separate dedicated area that is just for my studio! My 'shooting' space can accommodate fresh little newborns all the way to families of 5. It is a spacious, clean, and comfortable space. It is closed off from my actual living area so it is very private.
The studio is equipped with strobe-lights so poor lighting is never an issue and I am not dependent on sunlight or daylight. I have hundreds of props and portrait goodies for you to choose from; this includes colorful backdrops, baskets, fabrics, blankets, tutus, headbands, hats, chairs, stools.. you name it I pretty much have it! Majority of my prop selection is for newborns up to 6 years old.
There is a bathroom just off the studio which can be also used for makeup checks and clothing changes. I do have a changing table stocked with Pampers products. Aside from what you see in the images here I also have a seating area with a table and chairs. And in case you are needing a private moment to relax or nurse, there are reclining sofa chairs just around the corner.
I hope to hear from you soon!!!