Click on a question to view the answer.
1. Why choose Beth W Photography?
Many reasons, here are just a few!
I'm proud to be independently and privately owned by one member, myself. Photography is a full time job for me and it is my passion in life!
A lot of my business comes from referrals, meaning; past clients refer their friends and family to me. This speaks volumes about not only my work but also working with me!
Affordability! One of the most important aspects of my business is being able to offer a professional high quality service at an affordable price! I have a family so I know what it is like trying to find a quality photographer that does't cost an arm and a leg. I am fortunate enough to be able to do what I love for a living and offer my services at a reasonable price!
When you view the portrait images on my website, you are seeing my work of real people not models! Some photographers display images on their website that they have taken at classes and workshops. Those type of images do not accurately represent the photographers true talent since the subjects are typically models and everything is choreographed and staged. Also, with a recent trend towards national chains and large studios, many websites show you the best work from dozens of photographers, but maybe none from the photographer who will actually be shooting your portraits. And you may not even meet or get to talk to your actual photographer prior to your session.
I am a one stop shop! I take my own images, do all of my own edits and retouching, and custom design my own keepsakes like photo cards and albums! I take a personal approach to your portrait session, handling all of the preparation and correspondence with the client, to make sure your images stay true to you! This allows you the ability to contribute in my creative process if you so choose to; this is known as the custom photography experience! And since I handle everything myself, turn around time is quicker (you receive your package a lot quicker than most photographers can offer)! I give each client the respect and attention they deserve!


2. What is custom photography?
Custom photography is more of a luxury than your entry level cookie cutter chain experience. There is a lot more time and energy required from both the photographer and client. I take a personal approach to your portrait session, handling all of the preparation and correspondence with the client, to make sure your images stay true to you! This allows you the ability to contribute in my creative process if you so choose to. Custom photograph is truly for the client who enjoys taking a more active role in the creation of their portraits.

I believe custom photography is as much an experience as it is the resulting images!


3. What is the first step in booking a professional portrait photographer?
The first step is finding the right photographer for you! Professional photographers offer all types of packages and portrait services. Some photographers only shoot indoors, some only outdoors. I like to think that I offer the best of both worlds; I have very straight forward and affordable portrait packages AND I offer both studio portraits and on-location portraits.

I believe that you should get to know your photographer and feel more than comfortable with whomever you choose! A face to face consultation is not required prior to your shoot, but I do encourage it! We can of course correspond via email or on the phone. In the end, the most important thing is that you feel comfortable with the process, that is the real first step!


4. How far in advance should we book your services?
I am available with a week or two's notice, but typically I book portrait sessions one to three months in advance.

For newborn portraits, please contact me when you are in your second to early third trimester to secure my services, we will finalize the exact session date once your baby is born.


5. How do we reserve your services for a portrait session?
A signed contract and deposit are required to reserve my services for your portrait session date and time. The deposit of $50 goes towards your balance and is considered non-refundable if you cancel. The remaining balance must be paid in full before or on your shoot date. The contract and deposit is an online process; once we set a time and date I will direct you to it.


6. I have to sign a contract and pay a deposit beforehand?
Yes and Yes!!
Contracts give security, more importantly, they give security to both parties. It's like a piece of double sided tape, except this will stick a lot better. A contract is a commitment on both sides of the fence: from the photographer to the client, that they will be there for the portrait session without a doubt. And from the client to the photographer, that they will cooperate positively and pay the full amount owed.
Deposits mean business, similarly to the security of the contract, deposits mean that both parties are serious. There is a lot of time that goes into the communication and preparation prior to a photo shoot. If the client was not required to pay a deposit and then didn't show up at the agreed upon time, it truly wouldn't be fair to the photographer.


7. What type of payments do you accept?
The deposit payment is process thru PayPal; you do not need a PayPal account to make the payment and it can be with a credit/debit card or bank account transfer. The final payment will be made at the time of your session and can be with a check credit/debit card, or cash. Checks payable to: Beth W Photography


8. What if it rains the day of my outdoor portrait session?
I do monitor the weather forecast as an outdoor session approaches and I will contact you if conditions are not acceptable. In case of bad weather, I will reschedule as many times as needed without any charge or offer the option of an indoor location.


9. What happens if my kid gets sick right before our session?
As a mom myself, I totally understand that these things happen, kids get sick! I do ask for a minimum 24 hour notice to reschedule a portrait session, which no penalty, with the exception of a sick kid. The last thing I want to do is force a kid to pose for portraits, either way the outcome will not be a positive one. I do appreciate as much notice as possible.


10. What kind of equipment do you use?
I shoot with professional Canon equipment and only professional lenses. For my studio, I use professional monolights, backdrops, and light modifiers.


11. Do you have backup cameras and equipment?
YES! Camera or equipment problems can happen at anytime and to the best photographers.
When picking a photographer, a good question to ask would be, "Do you have redundant or backup equipment (ie: camera, flash, batteries, etc.)?"


12. Do you edit your own images?
Yes, I handle every aspect of your images which includes creative editing and touching-up. In this regard, I am a 'boutique' operation, I actually personally handle everything from start to finish!


13. What kind of touching-up and editing is included in your packages?
I do a variety of blemish, spot, and color correction. Every image is inspected by myself to ensure that it meets Beth W Photography standards. I offer a variety of editing effects to fit your portrait needs; black and white, sepia, antiquing, midnight effect, etc. Object removal, such as braces or tattoos, is available at an additional retouching fee. Please contact me for more details!
Click here for newborn portrait retouching details!


14. How many images will I receive?
The amount of images provided is completely dependent on how many people are included in the session, what type of portrait it is, what type of location they are taken at, and how cooperative each subject is. Because there are so many factors, I cannot guarantee any specific amount. A family portrait package typically includes 40-80 images and a newborn package includes about 40-70 images.


15. What is the best location for my portrait session?
The best location for your portrait session really depends on what type of portrait it is and what look you are going for.
Shooting on-location offers a great variety of scenery. Consider a urban look - downtown can be funky and modern. Brick walls and stone steps add great texture to an image without taking over the spotlight. Of course, you can never go wrong with the beauty of a park or garden. I'm up for anything, so let me know what you have in mind! I have several locations that are my personal favorites. If you need a recommendation or help choosing your location, just let me know and we can discuss the best options for your session.
If you are looking for a very casual, lifestyle photography session, shooting at home can be a great option. Please don't drive yourself crazy getting your house ready before I come over. I know the reality of life!! If the weather and lighting permits, we can shoot inside and outside in the same session. When I arrive, I will check out various areas of the house for proper lighting and determine where we should shoot. If you have a specific concern about shooting in your home, please discuss this with me prior to your session.
If you're looking for a traditional look or a formal portrait, the studio is a great option. My studio is located in my home in Brooklyn Park and I have the traditional setup with professional photographic lighting. My studio can accommodate up to a group of 5 (6 if 2 or more are small children). If you have a larger group, I suggest going on location.


16. What does 'on-location' mean?
'On location' is anything but in the studio! This type of portrait shoot can take place at your home, in your backyard, at the arboretum.. possibilities are endless. Especially for family portraits, on-location shoots allow for much more freedom and creativity!


17. What if I want part of my session outside and part of it in your studio?
Any of my portrait sessions can be held outside and in my studio during the same session. I have a small outdoor area right in the studio backyard that is on a pond and there are a few close by parks.
Keep in mind that the mini-family, mini-kiddo, and kiddo sessions are intended for in the studio only. If you would like both in studio and outside we can use my backyard..


18. Can you tell me more about your studio?
My studio is located in north Brooklyn Park. I have a whole section of my home dedicated to my studio. It consists of professional studio lighting , backdrops, posing accessories, and props. For more details go
HERE!
19. What backdrop options are available for studio portraits?
I have a wide selection of professional grade solid color and textured color backdrops, also known as backgrounds, along with fun floor-drops. Certain backdrops work better for specific types of portraiture and I have one for every occasion! Prior to your session, we can decide which backdrops we will use for your portrait session! I do purchase new backdrops thru out the year.
Family Sized Backdrops:
A mix of modern and traditional looking backdrops. They are sized appropriately for family, maternity, headshot, and business portraits.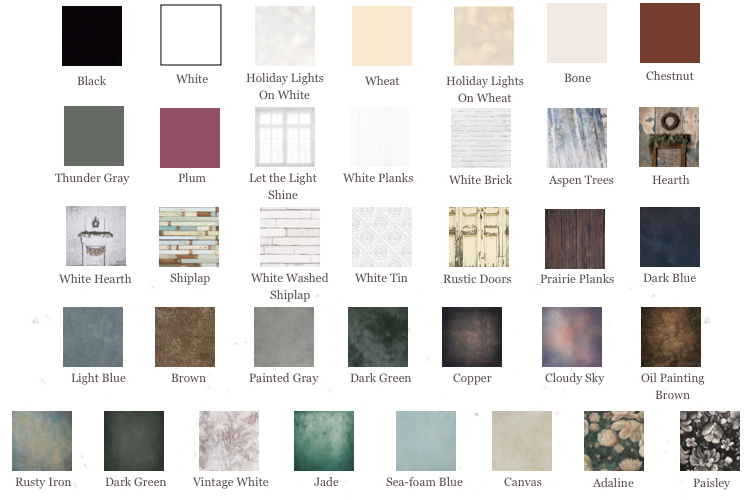 Kid Sized Backdrops:
Fun scenes and designs for kiddo portraits. Some are appropriate for newborn portraits or headshots. They are sized to fit ages 0 - 6 years. (Titles that include '+' can be used with older or multiple children.)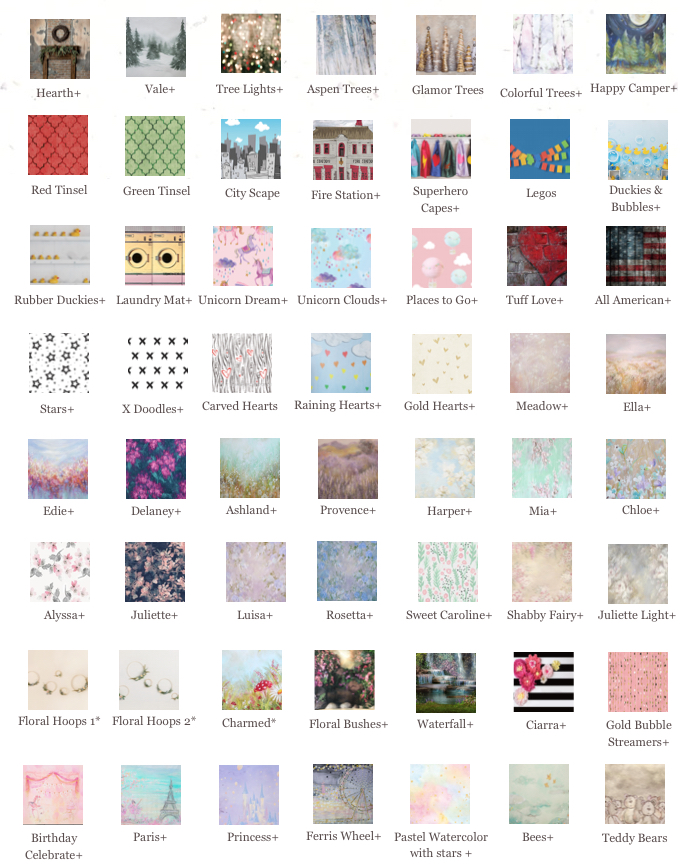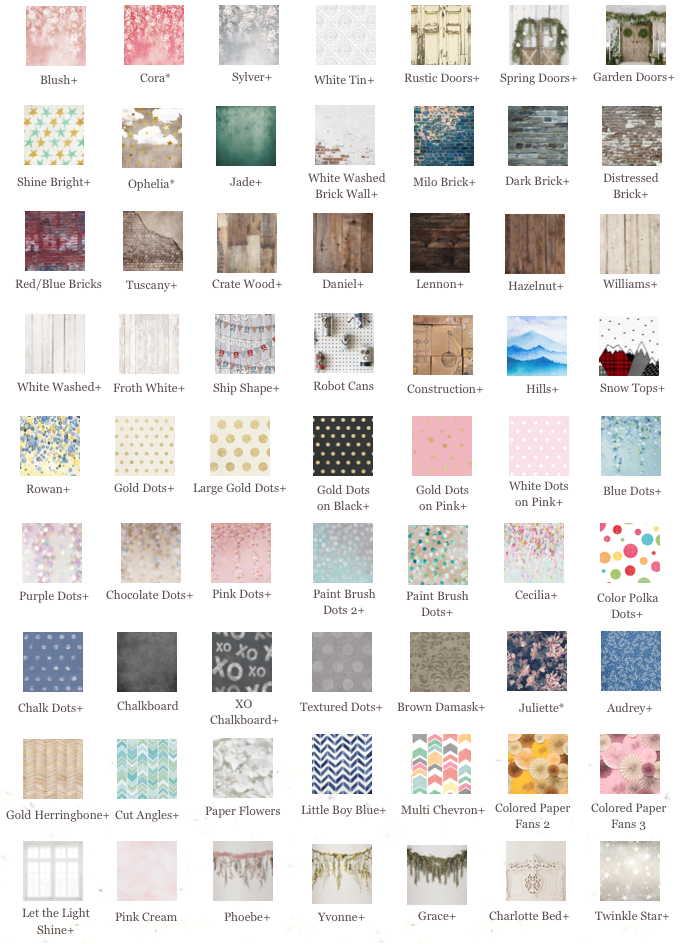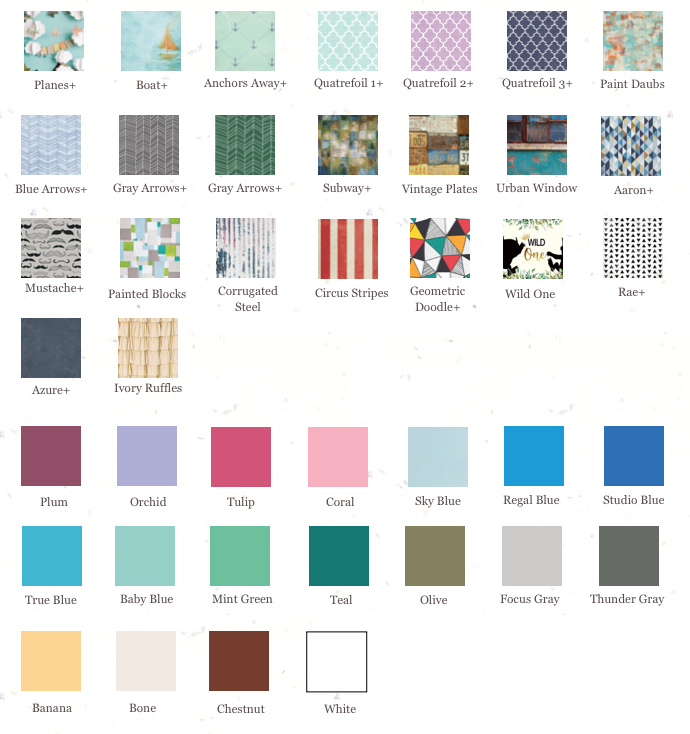 *Great for smash cake portraits.
+Large enough for older children and siblings.
Backdrop Banner
: A plain patterned backdrop can be accented with a fun and colorful flag or tag-tie banner. These are just a few examples, I have many in neutral, girl, and boy colors.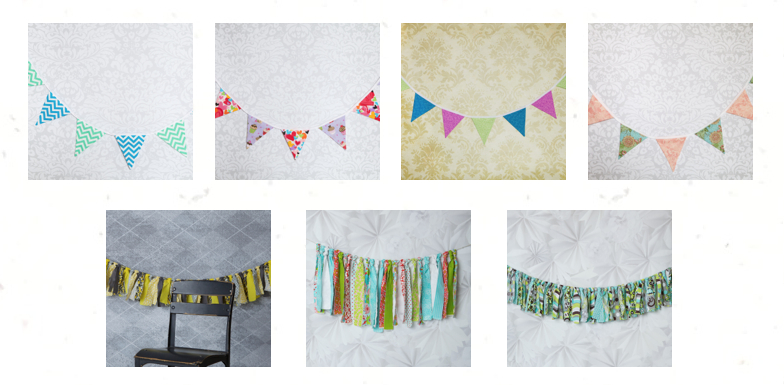 Floor-drops
: Perfect for any type of portrait that includes the whole body. Wood floor-drops can also be used as a wainscoting style background.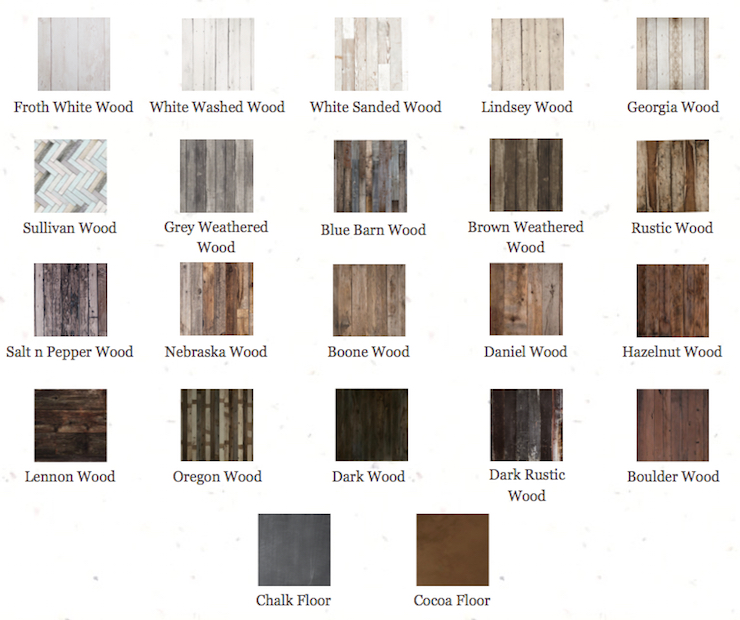 20. Do you have props and accessories?
OH YES, but keep in mind that not every portrait needs a prop! A prop is meant to compliment your child or family, not be a distraction.
I have a variety of child specific props; a white distressed bench, a variety of colorful chairs, stools, a small white ladder, wagons, baskets, crates, vintage luggage, birthday numbers, hats, super-cute headbands, lace petti rompers, flowers, tutus, toddler knit pants, boy hats, holiday specific items (Easter, Halloween, Valentines, Christmas), and even a small hay-bale!
Feel free to bring your own accessories or props. Themed hats, jewelry, boas, toys, and sporting equipment are all welcome!

For adults and families I have posing blankets (great for outside sessions), stools, and posing boxes.
Prior to your session, we can discuss which accessories and props would work best for you!
21. How should I prepare for my portrait session?
We want you to look your best and to achieve that you need to feel your best! Being well rested and fed will help, this goes for adults as well! If your child is not feeling well, please do not hesitate to reschedule!
It's a good idea to avoid any new or radical changes to your normal hygiene regimen just before the shoot, as new skin cleansing and hair care products could bring about unexpected results.
Every type of portrait requires different clothing. For attire details, please click here!


22. Can I make prints with my images?
YES!! Of course!! The images provided are for you to print and share! The image files are large in size; this allows you to not only print them in a standard size but also enlarge them! Once you receive your portrait package, I do recommend that you copy the images to a second location so that you have a backup.
When printing I highly recommend using a professional lab, someone that specializes in printing, such as National Camera Exchange or Lindhoff Photo
(I am not affiliated with these businesses in any way, they do not pay me to recommend them, I wish!)
. Please know that I am unable to guarantee the final print results due to variabilities between photo labs. The quality from a professional lab is far superior than your location department store's photo department. If you don't use a professional lab, you won't be happy and unfortunately, it won't represent me and my work in the best light. Keep in mind, you can always order professional prints, convenient and easy, through your website gallery!
23. When will my portrait package be ready?
The images are available for viewing on your private website within 1-2 weeks of your shoot. At that point, you can make any decisions that are required and then I would deliver your package within the week.


24. What is the viewing gallery? Can my family or friends order prints?
The private viewing gallery is for you to view and proof your images. You may also order prints from the website. Feel free to share your website gallery's web address with friends and family so that they may see your images and order their own prints if they would like! The gallery is available for 30 days past your shoot date.


25. How does the print purchasing work?
Professional print purchasing is available for your friends and family through your viewing website. I personally handle and process each order. I offer wonderful print prices, ranging from $2 for a 4x6 to $8.00 for a 8x10, and $16.00 for a 11x14. Shipping is handled through USPS Mail. My print prices are very reasonable and competitive when compared to other local photographers. I have seen other portrait photographers charge anywhere from $10 to $30 for a single 4x6 print.

Since your portrait package includes image files (excluding business portraits), you do not have to order prints thru me. You can of course if it is more convenient for you!


26. What is a Photo Card?
A Photo Card is a custom designed greeting card. There are four types of cards available; Print, Magnetic, Flat Double-Sided, and Boutique Double-Sided. All measure 5x7 and include white envelopes. Designs range from Christmas, Valentines, birth announcements, birthday invitations, and graduation invitations.
Click here for more details and to view the one of a kind designs!!


27. What is a Canvas Gallery Wrap?
A Canvas Gallery Wrap is a canvas printed with an image and stretched over 1 1/2 inch deep hardwood bars. Several sizes are available; 11x14, 16x20, 10x30 (panoramic), and even an amazing 30x40 inch. Your favorite image is printed on a cotton-blend canvas and covered with a matte laminate finish that enhanced color depth and protects from UV light. The image wraps around the edges for a three-dimensional look that will stop people in their tracks. The Canvas Gallery Wrap comes with a paper backing and hanging hardware already installed for you. It is ready to be hung as is!
The canvas is perfect for above the mantel or fireplace or even above the bed! Also makes a great family holiday gift!
For more information, click here!
28. Can you tell me more about the maternity portrait service?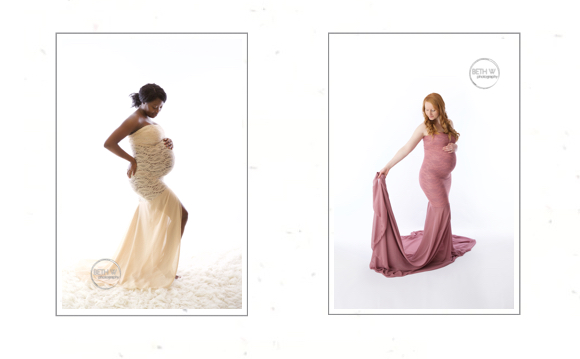 I recommend that you schedule your maternity portrait session in the late second or early third trimester (30-36 weeks). You want to be clearly showing but still feel comfortable enough to enjoy the process. Earlier than that and the belly may not be prominent enough, later than that and you may feel uncomfortable. But every woman and every pregnancy is different, so listening to your body is always a good idea.
The session itself can take place outdoors at a location of your choosing or in my studio. Outdoor sessions can be a bit more candid and casual looking, whereas studio portraits have a classic posed and/or artistic look. Or if you would like studio and outdoor portraits I do have a lovely area just outside my studio that's on a little pond. Outfit changes are welcomed and encouraged, especially with a studio session.
Click here for attire information.
You will have access to dozens of gowns (2 in above image are examples), top-shorts/skirt sets, fabric wraps, and maternity sashes to accentuate your form. The wraps give a more intimate look while while keeping things completely discreet.
Just be prepared to look your best! It's a good idea to avoid any new or radical changes to your normal hygiene regimen just before the shoot, as new skin cleansing and hair care products could bring about unexpected results. Also avoid long durations in the sun without sunscreen, burns or tan lines are move obvious in pictures. Being well rested will help, though I know that is sometimes difficult during pregnancy. Schedule yourself a pregnacy massage, mani/pedi, or pamper yourself at the saloon with professional hair styling and/or makup; fake eyelashes optional. 😉 Also eating light but more frequently the day of the shoot can help you feel less bloated but not hungry. This will help you look your best!
29. Can you tell me more about your newborn portrait service?
First and foremost, the comfort and safety of your newborn is my #1 priority. I am a mom myself so I have plenty of newborn experience!
When and Where
I recommend booking your photographer no later than the end of your second trimester. So I am able to dedicate enough time to each client I only accept so many newborn clients each month. The earlier you are in touch the better! Once your little one is born we will actually schedule the session; under 2 weeks new is best (I prefer 6-12 days new). The younger they are, the easier it is to get those fun molded, relaxed poses. The full newborn session lasts around 2 hours, possibly a little longer if you are including siblings or the whole family. The mini-newborn session lasts up to 40 minutes long and is just for baby, no family or sibling poses are includes. The time account for time to setup, change looks and poses, nurse or cuddle, and to clean up any potty messes (it can and probably will happen)! With that said, I do want to point out that all blankets and fabrics are washed and sanitized in between each use.
The full newborn session can be done in my studio or at your home. After being in the hospital for a few days, you may not be up for heading out into the world with your little one so I like to give you that option. My mini newborn session is aviable in the studio only. My studio does provide the comfort of home (I have a dedicated studio space in my own home) and you will have access to ALL of my props, large and small. If I come to your home I will need a small space to work, around 6x6, and I will bring along a limited amount of props to use along with studio lighting equipment. Also, I do like to keep the environment very peaceful during these sessions, so if I come to you please keep your audience to a minimum. And please don't feel like you have to super clean your home, I know what it is like to have a family!
With What
In my studio you will have access to to all of my props and accessories. I provide everything that we will need; backdrops, blankets, soft layers, headbands, hats, and all kinds of posing prop accessories (I literally own hundreds of newborn props and in every color imaginable). The props I use are items that are going to fit baby properly, items I feel comfortable using, and they match my style; so please do not feel that you need to shop for anything for the session. Prior to your session I will have you fill out a newborn questionnaire which reviews the colors that you would like included and styling options. I can tailer your newborn session to match the colors of your nursery, birth announcements, where you will be displaying the images, or just your personal taste.
I offer two different looks in the studio; the bean bag and the prop look. I typically start with the prop look and then move onto the bean bag look (which is fabric draped over my posing beanbag, only available in-studio sessions), time allowing and if you are comfortable with this look. I like to use 2-3 prop looks and 1-2 bean bag looks (different colors that is). If you are including family portraits, we would do those first. You may request a specific pose but please keep in mind that every newborn is unique and I will not force the little one into something I do not feel he/she will be comfortable in. My style of photographing a newborn is more baby led.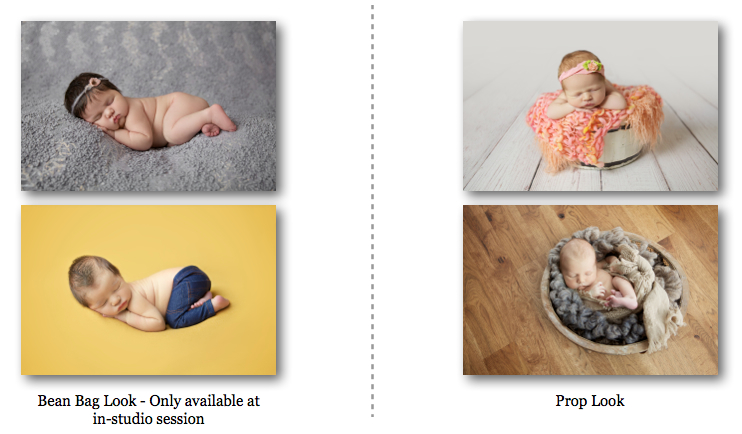 Family with Baby
For family poses with the baby there are a few different approaches. There is the classic and minimal black on black look. Parents wear all black and are posed on a black background. This allows you to really focus on the skin and baby. With a white backdrop you can pretty much wear anything, this is also a good choice is additional family members are going to be included. A tan background is warm and lovely and looks great with white or warm colored (tans, browns) clothing. Lastly is the wood planks background; this works well with black or other darker attire. Either way, with any drop, I recommend keeping it solid and simple, no patterns or large pockets or buttons on the clothing. For more specific details on what to wear for newborn family portraits
GO HERE
.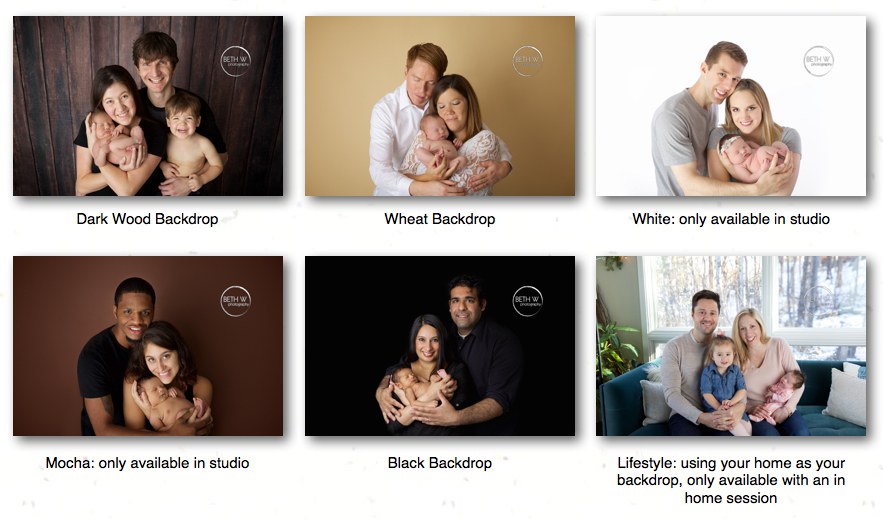 Sibling with Baby
There are two different posing techniques for getting baby with older sibling(s); one may work better than the other depending on the sibling(s) age and cooperation. With children around 2-3 years old the lay down look tends to work best. With older children a prop look can be fun (example: readying stories) or if the 2 year old just wants to pop in for a kiss!! Either way the safety of the newborn is priority!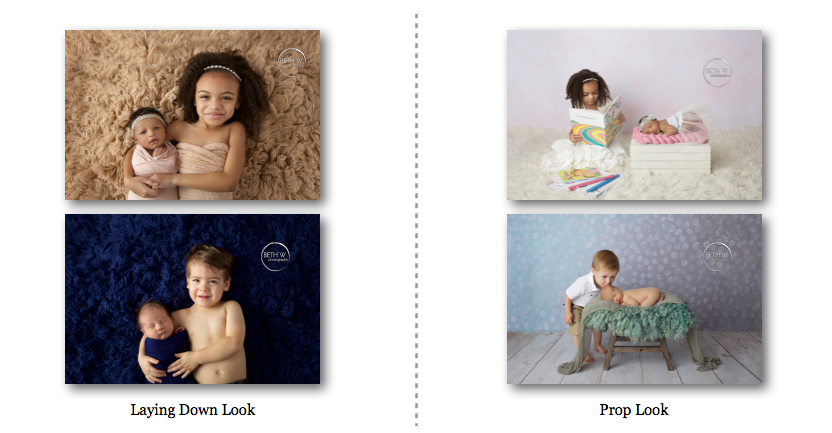 Final Product
It takes me about 1-2 weeks to process the images. At the end of this time, the images will be viewable on your private viewing gallery. I do take special care when editing and retouching your newborn portraits. I want to showcase those pouty lips, squishy cheeks, and tiny toes but dry-red-rash patches, discolorations, and baby acne can be distracting. My intent is to preserve that cuteness!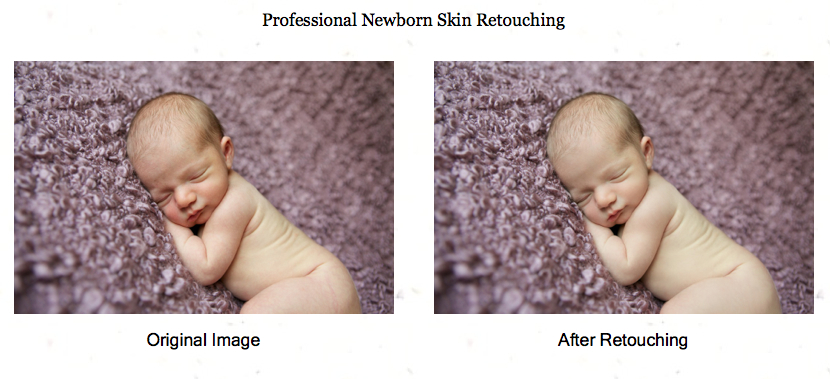 We can of course discuss all of these details prior to your portrait session.


30. What is the best age to photograph my child?
The best time to photograph your child is when they make strides in their development. So in other words, it's not so much the right age, but the right milestone!
At around
3 months
, your baby is now smiling! Yep, they know who you are! Babies at this age will smile and interact a lot. This is something that they did not do as a newborn. Since at this age your little one can just hold their own heads up they are styled and posed similar to a newborn. We can use cute fur or fabric backgrounds while baby is laying down on his/her back, we may even capture them attempting to play with their feet. Some babies with also be able to have some tummy time and place their head up, perhaps peak a smile just long enough for me to capture it! At this age, clothing should still be minimal; diaper cover or a knit wrap (I provide) to cover the diaper.
What does this look like?


At about
6 months
, there is another milestone, your baby will be grabbing for toys, laughing, and even sitting up! This is a great age and one of my favorite to photograph. At this age it is fun to include small elements of clothing; tutu, pants, shorts. I don't think babies need a lot of props to enhance photos or clothing for that matter, but as they get older adding them can be fun and their personalities shine so much that your little one
for sure
be the center of attention in any photo! It's also positively adorable doing at least one bottomless (meaning no diaper or clothing) pose! If baby is unable to sit unsupported I may use a bucket or basket to give them a little stability.
What does this look like?

Around
12 months
, crawling, standing, and maybe even walking are milestone for sure! Celebrating your baby's first year is for both of you! Little man suits and girly dresses and skirts are great at this age! Now that your little one is on the move toddler chairs work great for this age. Kids love a chair sized just for them!
What does this look like?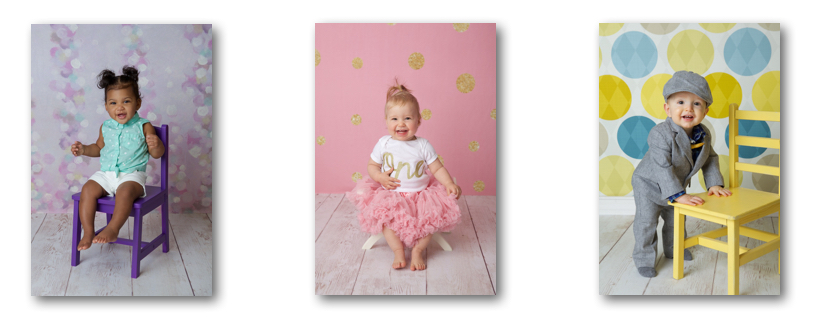 31. Can you tell me more about smash cake portraits?

A cake smash photo session is a fun, joyful way to commemorate the milestone of your little one's first birthday. Capture your baby's surprise, curiosity and delight as they tear into their first taste of sugar. A cake smash is a great way to express your baby's unique personality in a relaxed and carefree way.
Choosing a Cake
Second only to your adorable little one, the cake or large cupcake is the most important part of the photo session. I offer a professionally made 6 inch cake or large cupcake that will be ready and waiting for your session!
What to Wear
The outfit your baby wears will be an important part of the photo session. I recommend that you choose the cake first, as it along with your baby will be the star of the show. Then choose clothing that complements the color of the cake. Some additional things to consider:
• White onsies and tutus always photograph well. I recommend simple with lots of skin showing to get messy.
• Accessories such as bows, ribbons or fun ties and necklaces can add interest to your photos. I have a selection of accessories.
• If you choose to leave your baby mostly undressed for the session, remember that a cute diaper cover will be more attractive than a disposable diaper alone. I have several to choose from.
• Of course, if you purchase a specific outfit for the smash cake, make sure it will be easy to wash after the festivities are over.
The Mess
Naturally, your little one is going to make quite a mess during the photo shoot – and that's a big part of the fun! I always have clean towels on hand for clean up and there is a bathroom directly off of my studio. Please bring a comfy and easy to put on outfit for baby to wear after the festivities; and a backup outfit for you in case baby get's you messy as well!
We can collaborate together to design your birthday look and cake. Click here for more details!
32. Can you tell me more about your Milestone Packages?
The Milestone Packages include multiple portrait sessions. You can choose which best fits your portrait needs from the many packages available. These portrait packages do require that the total be paid for in full at the time of the first session to take advantage of the discount.


33. Can you come to our business location for business portrait service?
YES!! If there are 3 or more people needing business portraits, I am able to travel and setup at your business location for no additional charge. All I require from you is an area of around 10'x5' and a few electrical outlets! Conference rooms work great for this. I bring all of the lights and camera equipment that is needed. That may seem like a lot of stuff but it really isn't; I have the best studio bag on wheels and I pack well. It takes me around 30-45 minutes (depends on the parking and check-in process) to unload and setup. The photo shoot itself can take anywhere from 20-40 minutes depending on how many people are being photographed.

Background colors are available, but I am able to use a simple white wall and make it appear white or gray.


34. Do you always post a sneak peek preview, or do I get an option? What if I want to keep my photos private?
Every client gets the option of having a sneak peek preview or not. Unless you say otherwise, I will post a public sneak peek preview on my
facebook page
within a day or so of your session.